36th ANNUAL INTERNATIONAL CONFERENCE
Online Web Conference
Monday - Tuesday: May 23rd and May 24, 2022
Theme: Collaborative Resilience: Recreating Global Pathways

Fully online both days
Pacific: 8:00 AM - 5:00 PM
Mountain: 9:00 AM - 6:00 PM
Central: 10:00 AM - 7:00 PM
Eastern: 11:00 AM - 8:00 PM


| | | | |
| --- | --- | --- | --- |
| Early Bird | $60 | $350 | April 15, 2022 |
| Regular | $75 | $375 | May 23, 2022 |
---
Call for Abstracts for Online Paper, Session, and Poster Presentations
You are invited to participate in the 2022 Phi Beta Delta National Online Conference by submitting a paper, session (e.g., a panel), or poster abstract under the theme, "Collaborative Resilience: Recreating Global Pathways." Participants will present their papers and posters online and engage with a broadly dispersed audience via Zoom (videoconferencing and screen sharing technology). Specific guidelines for posters will be available upon request.

We invite you to explore new and innovative avenues of global teaching and learning, with a special focus on collaboration as informed by theory, research, and practice. Please submit proposals that reflect the best practices in your field as they relate to international education.

PBD welcomes proposals from a diverse array of academic disciplines, presenters, and global perspectives, and from a variety of institutional and organizational types. Proposals with presenters from a single institution or multiple institutions will be considered equally. Specific focus areas have been identified for the 2022 conference (see below).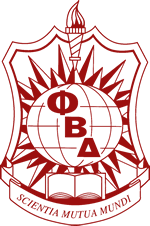 Phi Beta Delta was founded at California State University, Long Beach in 1986. It is the first honor society dedicated to recognizing scholarly achievement in international education.

Phi Beta Delta is an academic and professional society, unique because it is resolutely interdisciplinary and international. Its formal organization brought together numerous pre-existing internally-oriented campus groups.
http://www.phibetadelta.org/about
Submission Deadlines:
Paper and session proposals (500-750 words): April 15, 5 p.m. PST
Poster abstracts (300-500 words): April 15, 5 p.m. PST
For the 2022 conference, the PBD Board seeks to showcase theory, research, and practice that exemplify innovative approaches to collaboration in our diverse and challenging world. You are invited to submit proposals appropriate to the focus areas listed below.
Suggested topics under the theme, "Collaborative Resilience: Recreating Global Pathways"
Post-Pandemic Initiatives in International Education
Building Global Connections
Promoting and Communicating Intercultural and International Education on Campus
Student-Faculty Exchange
Intercultural Initiatives On and Off Campus
Acquiring a Global Perspective through International Education
Sustainable Development Goals
Technological Connections
Emerging Practices in International Education
Click Here to open 2022 Call For Proposals Form
---