The Executive Office
Mailing Address and Contact Information:
Phi Beta Delta Headquarters
C/O Dr. Amy Leh, PBD Executive Director & CEO
AD 101
Administration Building Rooms 148 & 150
5500 University Parkway
California State University, San Bernardino
San Bernardino, CA 92407
Phone: (+1) 909-537-5018
Fax: (+1) 909-537-7458
URL: http://www.phibetadelta.org
E-mail: aleh@csusb.edu
Executive Director & CEO: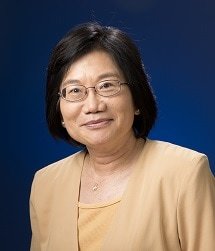 Amy Leh, Ph.D.
Amy (Sheng Chieh) Leh (Ph.D. in Education, Arizona State University) is Professor of Education at California State University, San Bernardino. Dr. Leh has taught more than 10 different courses in Instructional Technology, has written more than 30 articles, and has made more than 100 presentations at international/national conventions. She was Instructional Technology program coordinator and Interim Director of Academic Technologies and Innovation at CSUSB. She was Co-Founder and Lead Organizer of EdTech Classroom Conference for 10 years.

For about 13 years, she held leadership roles collaborating with her colleagues on numerous grants that exceeded 5 million dollars. At CSUSB, she twice received the College of Education Outstanding Professor Award in Professional Achievements. From the International Division of the Association for Educational Communications and Technology, she received two awards: the President's Service Recognition Award and the International Contributions Award. From the association of the Computer Using Educators, she received the Technology in Learning Leadership Award. She has served as Treasurer and President Elect of Gamma Lambda, the Phi Beta Delta chapter at its home institution, and currently serves as the chapter's President.
Staff Members:
Administrative Assistants: Rosette Santiago, Itzel Olguin
staff@phibetadelta.org